Managing Parameters - Holiday and Closed Day Calendar
Overview
CALLMaster provides special call handling for weekends and holidays. It can answer with a special greeting and handle Attendant transfers differently. CALLMaster permits you to use special all day greetings on holidays or days that you are closed during the week.
The greeting prompts are specified in the 'Phone Ports' table.
The Voice Mail Closed-Day greeting is prompt 203; the Voice Mail Holiday greeting is prompt 209.
You may also create custom prompts numbered between 600 and 900 and reference in the Phone Ports record.
On days that are both closed-days and holidays, the holiday greeting will be played. On closed days and holidays, the Attendant uses the 'evening' records if available.
To instruct CALLMaster which holidays and days of the week you are closed, select Parameters | Holidays to bring up this screen.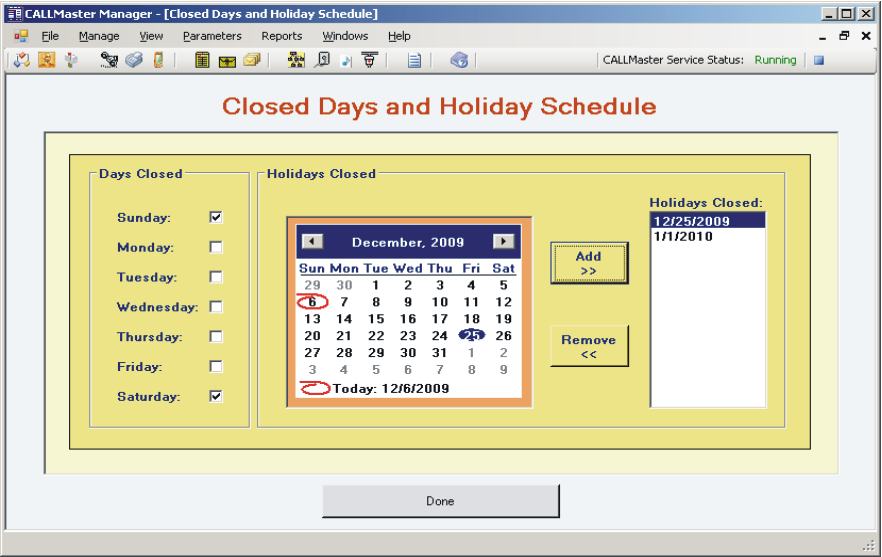 Weekdays Closed
Check the appropriate boxes for days you wish to be considered as closed every week. On these days prompt 203 (Voice Mail) or prompt 515 (Attendant) is played.
Holidays Closed
By choosing the appropriate date on the calendar, then clicking the corresponding date appears in the 'Holidays Closed' list box and is considered by CALLMaster to be a closed holiday. On these days prompt 209 (Voice Mail) or 516 (Attendant) is played.